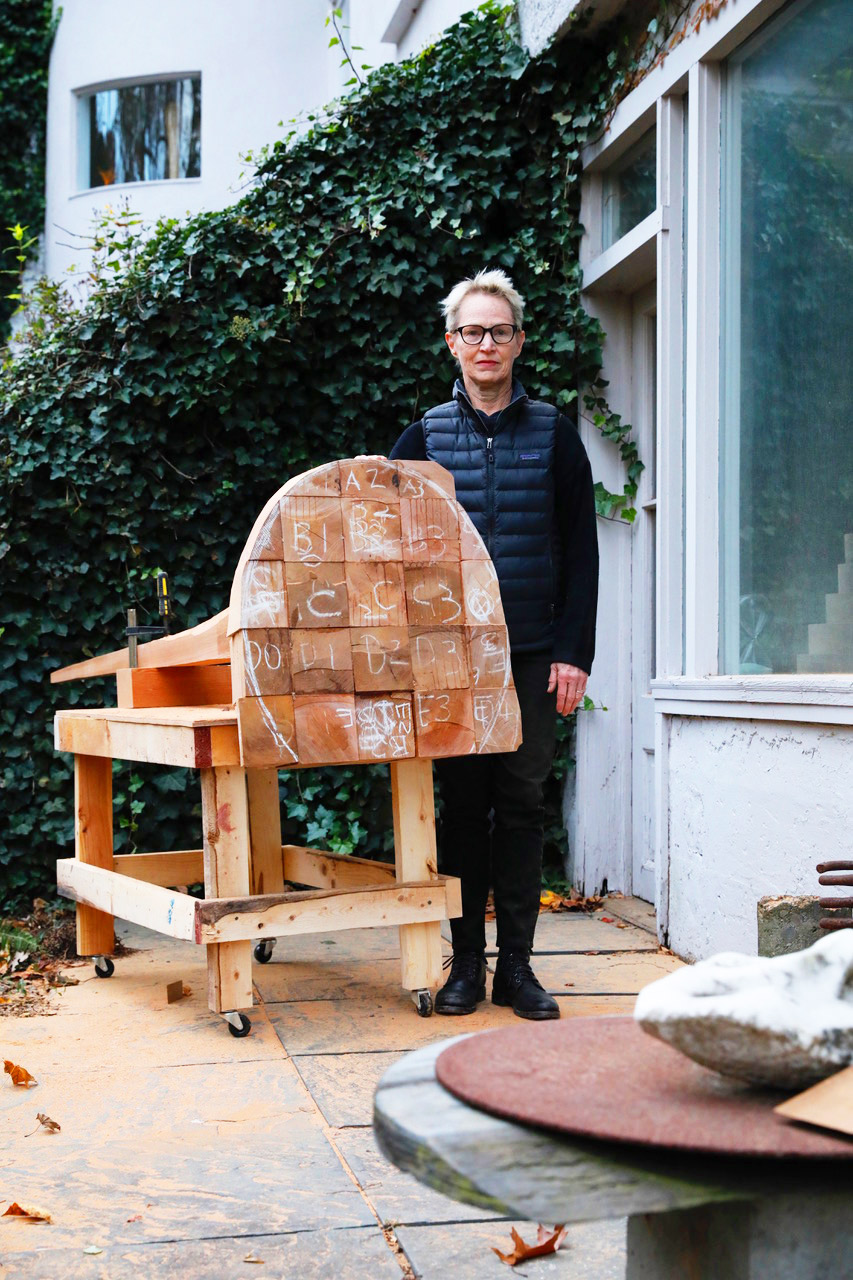 About Sandra
Sandra grew up in the tropical lushness of North Miami, Florida until her family moved to Indiana where she remained through college. In 1975 She received a BFA in Sculpture from IU, in Bloomington, Indiana. She spent time swimming in the limestone quarries where she would harvest stone to carve.

Before going to graduate school she taught Art as an Artist-In-Residence for Marsha Norman's "Special Arts Project." The mission was to infuse the K-12 public schools of Louisville, KY with practicing artists who visited hundreds of classrooms teaching art projects in an effort to ease racial tensions during the first year of integration through bussing in 1976. Art is powerful!

In 1980 she graduated from Tyler School of Art in Philadelphia, taught Drawing to undergraduates, and graduated with an MFA in Sculpture.

Sandra's commitment to her creative process as a fine artist has been a life-long journey and not without obstacles. After graduate school she chose the path of starving artist and wound up in Montclair, NJ with only a bicycle for transportation. She worked hanging wallpaper, painting home interiors, doing construction, general contracting and Interior Design and devoted any and all free time to creating art.

For the last 30 years Sandra has remained in Montclair. She married, raised a daughter (also an artist) and maintained a large studio attached to her home. Five years ago she met Jen Wroblewski of Montclair Gold gallery and has had two successful solo shows there, Breathing Underwater and The Museum OF.

Her former design career brought a full floor NY Highline residential project, HL23, which was published in Dwell magazine and her Ovals installation in LA was recently published in AD magazine. Working with architects was inspiring.

For the past nine years she has been a full-time artist and will continue to be. Sandra has a committed sculpture practice that is a constant and changing dialogue between her materials, hands, eyes, mind and spirit. While in the studio, one is "present" with this union of mind and matter and it all comes together to create a very personal language. The result is much like the process. The sculpture is matter yet it communicates something intangible and best experienced with ones "open presence."

Sandra is currently seeking a gallery/museum to show her next work.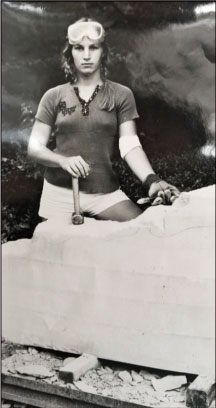 Résumé
Education
2020 Yann Giguere, Mokuchi Studio Japanese Joinery Intensive
1981 MFA in Sculpture, Tyler School of Art, Philadelphia, PA
1975 BFA in Sculpture, Indiana University, Bloomington, IN
Grants/Awards/ Commissions/ Residencies
2021 Sculpture Commission, Geraldine B. Laybourne, Floating Ovals, Venice, CA
2016 Sculpture Commission, Emily Lazar, Jonathan Alter, Montclair, NJ
1983 NJ State Council on the Arts, Fellowship Recipient
1977 Artist In-Residence, Special Arts Project, Grant to facilitate desegregation through the Arts, Louisville, KY
Exhibitions
2021 10/28, Solo Exhibition, The Tick and The Pea, Gold Scopophilia, Montclair, NJ
2019 Solo Exhibition, Breathing Underwater, Gold Scopophilia, Montclair, NJ
2014 Solo Exhibition, Praxis, Domus Showroom, NY, NY
2012 Solo Exhibition, Object Poems, Brass Works Gallery, Montclair NJ
2004 Group show, Sensibility Toward Line and Form, George Segal Gallery, Montclair State University, Montclair NJ
Teaching/ Artist Talks/ Lectures
2018-2021 In-studio apprenticeships for College and High School Students, Montclair, NJ
2019 Guest Coaching Artist for Poetry Students, Caldwell College, Caldwell, NJ
2019 Coffee with the Curator, Gold Scopophilia, Montclair, NJ
2019 VIP Collectors, About Breathing Underwater, Gold Scopophilia, Montclair, NJ
2009 Keynote Speaker, The Creative Process, Pepsi Co, Research HQ., Valjalla, NY
1989 Introduction to Art, Montclair State University , Montclair, NJ
1981 Taught Drawing I , Tyler School of Art, Philadelphia, PA
1977 Drawing and Sculpture, Artist in Residence, Louisville, KY
Press
Architectural Digest, Step Inside a Multigenerational Compound in Venice, By Mayer Rus, May 20, 2022
Art Spiel, Etty Yaniv, "Sandra Chamberlin, On Breathing Underwater," Etty Yaniv, May 1, 2019